[Versión en Español abajo]
SEA=STORE is a project by Thomas Nölle for the Drap-Art'16 Festival of Barcelona.
It consists of performances in the public space with Portable Micro-Museums, and the installation of the Ephemeral Museum consisting of an eco-building dome using reeds in the Plaça dels Àngels square, in front of the Museum MACBA in Barcelona.
Both parts of the Project approach the question of the fragility of ecosystems as well as of human memory and history.
The Portable Micro-Museums use a classic "vendor tray" design. They exhibit the Thomas's small boxes with objects. Each piece in SEA≈STORE is both an art object and an object of urban marine archaeology, recovered from the sea and the beaches of the Barceloneta by Thomas Nölle in the 1990s, before and after de Olympic Games.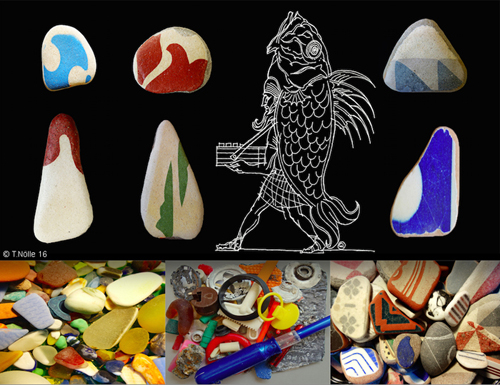 © T.Nölle, Sea-Store, 2016. [Dibujo: Carles Mariné]
During the performances with the Portable Micro-Museums, the artist donates his work to people committed to the preservation of the marine ecosystem.
Grounded in the sharing economy, each participant sends a tweet or selfie with his or her new work to the SEA≈STORE social media network.
Instagram: seastore_art, Twitter: @seastore_art
In this way, the participant's followers on social media and new art collectors preserve uniquely genuine fragments of Barcelona's history, while simultaneously contributing to the cleaning of the oceans.
The Ephemeral Museum SEA≈STORE is create to be an open space for the direct dialog with the public, as well as habitat and laboratory of art activities about marine ecosystem arising from the project, in collaboration with the Faculty of Fine Arts of the University of Barcelona and Mar Viva of the Agency of Residues of Catalonia and the fishermen of the Port of Barcelona.
© T.Nölle, simulación del Museo Efímero Sea-Store frente al Museo MACBA, 2016.
SEA≈STORE ensure visibility for the ambiguous condition of resistance or longevity of garbage. The project uses art and the system of collaborative sharing to return to society what was discarded in the past. The people take home what was waste material and it has been transformed into "precious" art object.
Workshops: Thomas Nölle, in collaboration with Carles Mariné.
Performances & workshops: In collaboration with the Universidad de Barcelona, students of the Grado en Bellas Artes and Grado en Diseño, teaching staff Aprendizaje–Servicio de la Facultad de Bellas Artes, coordinated by Eulàlia Grau & Joan Miquel Porquer.
Design and construction of the dome: Investigació Canyera, in collaboration with colectivo LHRC.
Audiovisual Production: Sue Wetjen.
With the support by: Proyecto Mar Viva de la Agència de Residus de Catalunya; Restaurante Barceloneta.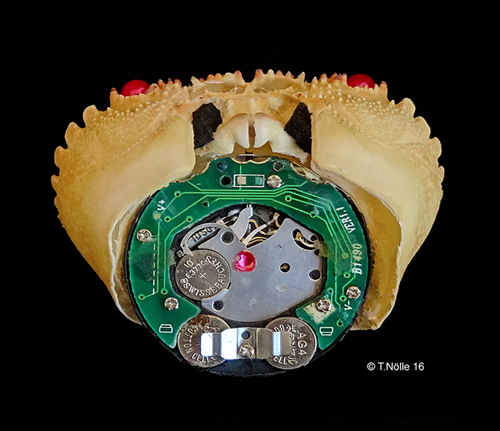 © T.Nölle, Sea-Storm, 2016.
[Spanish Version below]
Thomas Nölle takes part in the exhibition of the Festival Drap-Art'16 with a selection of works from 1990 to 2016, brought together under the title SEA≈STORM. The common denominator of all the pieces is the critical vision with regard to the unsustainable practices of the consumption societies, and how they have influence on the natural ecosystem, including human beings. SEA≈STORM is closely connected with SEA≈STORE, with its performances and intervention in the public space, also presents in the Festival.
Using found objects of diverse origins, especially from the beaches of the Barceloneta in the 1990s, Nölle establishes a close symbiosis between the natural world and the urban and industrial garbage objects (electronic chips, plastic, floor tiles, bones, etc.).

The beach of the Barcelona in 1991, before the Olympic Games with the accumulated garbage, and Thomas in 2016. © T. Nölle 16
These objects, found by a kind of archaeological work, are used in assemblages, boxes or mosaics, which explore the concept of "contemporary relics" of the urban-technological environment and nature.
To this end mechanical or technological structures are assembled with genuine insects and shells, as well as illustrations of parts of human figures. His collection of collaborative human–nature relics are testimony of resistance and, simultaneously, subtle critique of the consumption society for the ecologically unsustainable practices.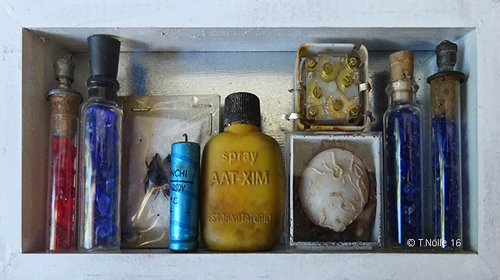 © T. Nölle, Farmacia I, 2016.
From the central topic concerning the marine ecosystem, Thomas approaches the question of the fragmentation of memory and history. According to Thomas, "the mentality of throwaway culture is reflected in its relation with history and memory, considered provisional and of decreasing relevance. Following this voluntary amnesia remain al least only fragments, difficult to decipher."
Thomas critique is extended to the art market. For Thomas, "in the same way as the hyper consumption is doing away with values like taking care, appreciate or repair, also it is transforming the art objects into fashionable, cyclical and disposable products." (T. Nölle).
[Español]


SEA≈STORE es un proyecto de Thomas Nölle para el Festival Drap-Art'16 de Barcelona. Consiste en acciones en el espacio público con Micro-Museos Portátiles y la instalación de un Museo Efímero en la Plaza dels Àngels, Barcelona, en forma de cúpula bioconstruida con cañas. Ambas abordan la cuestión de la fragilidad tanto de los ecosistemas, como de la memoria y la historia humanas.
Los Micro-Museos Portátiles tienen el formato de bandejas al estilo de las clásicas "cigarreras" de venta ambulante. Exhiben en su interior las pequeñas cajas de objetos de Thomas, al alcance de la mano del público. Durante las acciones con estos Micro-Museos, el artista dona su obra a todas aquellas personas comprometidas con la preservación del ecosistema marino.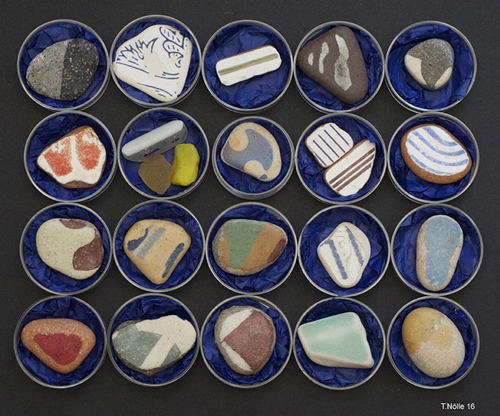 © T. Nölle, Sea-Storm, 2016.
Cada pieza de SEA≈STORE es un objeto de arte y de arqueología urbano-marina, rescatado del mar y de las playas de la Barceloneta por Thomas Nölle, en la década de 1990. Con base en la economía colaborativa, el participante envía un tuit o un selfie con su nueva obra a las redes sociales de SEA≈STORE. Sus seguidores preservan, así, un fragmento único de la historia de Barcelona y, a la vez, contribuyen con la limpieza de los océanos.
Instagram: seastore_art, Twitter: @seastore_art
El Museo Efímero funciona tanto como espacio abierto para el diálogo directo con el público, como hábitat y laboratorio de actividades impulsadas por el proyecto (talleres, workshops), en colaboración con la Facultad de Bellas Artes de la Universidad de Barcelona, en los que se utilizan residuos retirados del fondo del mar por pescadores del puerto de Barcelona para Mar Viva, de la Agència de Residuos.
SEA≈STORE da visibilidad a la condición ambigua de resistencia o perdurabilidad de los residuos. El proyecto utiliza el arte y el sistema de intercambio colaborativo para devolver a la sociedad aquello que ella despreció en su momento. Las personas llevan para sus casas lo que era desecho y ha sido transformado en objeto "precioso" de arte.
Talleres: Thomas Nölle, en colaboración con Carles Mariné.
Acciones y workshops: En colaboración con la Universidad de Barcelona, alumnado del Grado en Bellas Artes y del Grado en Diseño y profesorado de proyectos de Aprendizaje–Servicio de la Facultad de Bellas Artes, coordinados por Eulàlia Grau y Joan Miquel Porquer.
Diseño e construcción de cúpula: Investigació Canyera, en colaboración con el colectivo LHRC.
Producción audiovisual: Sue Wetjen.
Con el apoyo de: Proyecto Mar Viva de la Agència de Residus de Catalunya; Restaurante Barceloneta.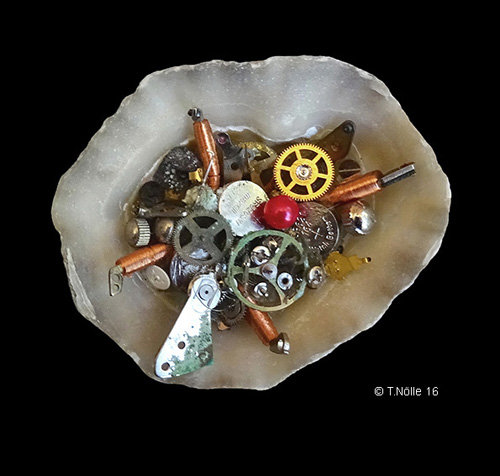 © T. Nölle, Sea-Storm, 2016.
Thomas Nölle participa en la exposición del Festival Drap-Art'16 con una selección de obras de 1995 hasta 2016, reunidas bajo el título de SEA≈STORM.
El denominador común de todas las piezas es la visión crítica respecto a las prácticas insostenibles de las sociedades de consumo y a la forma en que influyen tanto en el ecosistema natural, como en el humano.
SEA≈STORM está estrechamente vinculada a las acciones e intervención en el espacio público SEA≈STORE, que también se presenta en el Festival.
Durante una década en los años 1990, Thomas Nölle recolectó restos marinos y residuos de las playas de la Barceloneta: fragmentos de mosaicos hidráulicos, cerámicas, cristales, plásticos, metales, huesos… Basura arrojada al mar, pulida por las aguas saladas y el movimiento de las olas.
Preservadas por el artista como una colección de arqueología urbana y marina, estos objetos son testimonio de la transformación de la ciudad, su historia y del impacto medioambiental experimentado.

Thomas en la playa de la Barceloneta en 1990, recogiendo material antes de las Olimpíadas, y en 2016. © T. Nölle 16
Mediante assemblages con estos fragmentos rescatados del mar, Nölle recupera para la sociedad memorias inéditas e historias enigmáticas. Su colección de reliquias colaborativas humano-naturaleza son testimonio de resistencia y, a la vez, crítica sutil a la sociedad de consumo por sus prácticas ecológicamente insostenibles.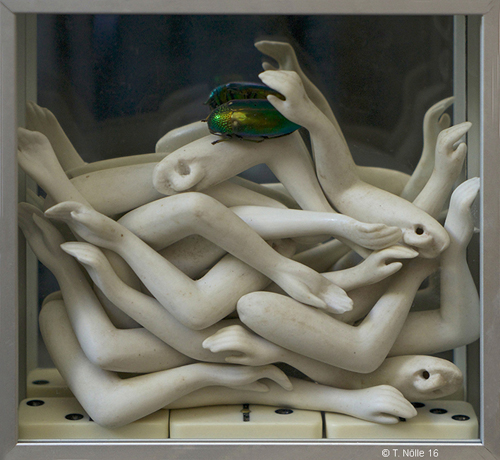 © T. Nölle, Game Over [Abrazos], 2016.
A partir del tema central en torno al ecosistema marino, Thomas aborda la cuestión de la fragmentación de la memoria y la historia. Según Thomas, "la mentalidad de usa-y-tirar de la sociedad de consumo se reproduce en su relación con la historia y la memoria, consideradas transitorias y cada vez menos relevantes. De esta amnesia voluntaria perduran sólo residuos, fragmentos difíciles de descifrar."
Su crítica se extrapola también al mercado de arte. Para Thomas, "de la misma forma que el hiperconsumo está acabando con valores como cuidar, apreciar o reparar, también está transformando los objetos de arte en productos de moda cíclica y descartable".
© Texts and images: Thomas Nölle
Ver también:
http://www.fundacionaquae.org/blog/firmas/una-coleccion-escombros-esculpidos-las-olas/